Uncategorized
No "Space, Consideration, or Support" for Zionism at Wellesley, Demand Student Resident Advisors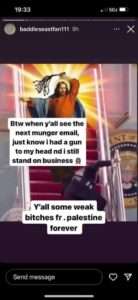 (Updated with what I'm told by two sources is an admission from instagram by the lead RA in question that even her non-apology apology was not sincere.)
Resident advisors are upper-class college students who live in the dorms. In return for free housing and a stipend, Wellesley RAs "collaborate to create a vital and engaged residential community. Resident Assistants aim to foster a spirit of generosity and civic engagement within their community. Together, the residential team provides programs and services that support the mission, vision, and values of the Office of Residential Life and Housing and the Wellesley College community, with the goal of creating a transformative living environment." In short, RAs are not just students but also College employees, and one of their main responsibilities is to foster a comfortable, welcoming community environment for all students. And yet, RA staff at one hall sent the following out a few days ago, reprinted here courtesy of my friend Jake Novak, who first reported it on Twitter:
Hello all, As of October 18th, 2023, the Palestinian-Israeli war has cost the lives of some 3,478 Palestinians and wounded 12,000. Israel's apartheid against Palestinians, characterized by the displacement of 600,000 individuals, the dissemination of genocidal rhetoric by the Israeli government, and the illegal occupation of native Palestinian lands, have left our hearts heavy. With all historical, political, and territorial aspects considered, Israel's zionist government needs to be condemned. Furthermore, individuals who endorse the forced removal of Palestinians should be recognized as supporters of colonization. Munger Hall stands in strong condemnation of Israel's actions and those who have supported their actions against Palestinians. We firmly believe that there should be no space, no consideration, and no support for Zionism within the Wellesley College community. In accordance with these beliefs, we plan on donating to a reputable organization that provides aid to the children and families whose lives have been destroyed. We will vote for the amount and organization in a future HoCo meeting. While Munger res staff want to support and make space for you through this devastating time, we also recognize that we may not be fully equipped to do so in the way each individual needs. Therefore, we'd like to point you to The Stone Center and The Office of Religious and Spiritual Life (ORSL) that may be able to help. ORSL is currently putting together processing spaces specifically for this issue, they may send an email soon regarding that. We care about each and every one of you, and please feel free to reach out with any ideas of how we can best support you during these difficult times.

Thank you, Munger Res Staff

–Moi Nee she/her Class of 2024
Note both the implicit dehumanization of Israelis and Jews, as the initial massacre isn't mentioned at all, and the highlighted sentence, suggesting that Zionism, the basic meaning of which is that Israel should exist, should be extirpated from Wellesley. To say the least, to write such a position is not just morally repugnant, but more pertinently is totally contrary to the role of resident advisors in making all students feel welcome. This is especially true, of course, of Jewish students, the vast majority of whom are "Zionists," and for many of whom this is an important part of their identity. Let's recall, these are not just students expressing an opinion, these are student employees of the college, who wrote this email in their capacity as employees.
The president of Wellesley, Paula Johnson, later sent an email to the Wellesley community, the salient part of which is this:
It recently came to my attention that a small number of student residence hall leaders from one dormitory sent a letter to their housemates in their capacity as resident assistants that expressed views on the Israel-Hamas conflict. Our Student Life team met with these students and talked about their role and responsibility to support all students. They have since sent an apology to all students in the residence hall. That these young leaders were able to learn from this episode gives me hope.
That *might* be adequate if the students had actually expressed true remorse, and showed that understood why this email was problematic beyond the fact that they shouldn't be issuing policy statements as RAs. Instead, they issued a non-apology apology, of the "we're sorry you were offended" variety (see below, again with credit to Jake Novak's reporting).
This is a totally unacceptable response from President Johnson, and leaves Wellesley wide open to a Title VI complaint or lawsuit. Indeed, if I can find the time, I will personally file the former.
Date: Fri, Oct 20, 2023 at 12:41 PM
Subject: addressing the email I sent last night
To: Munger Fall 2023 All Hall <munger-fall-2023-all-hall@wellesley.edu>
Hello all,
I would like to address the email that was sent last night on behalf of the Munger HP and 4 Munger RAs.
We regret any harm our words have caused to our residents, parents, alumni, or others in the community. We are also truly sorry if it has dissuaded anyone from coming to us as RAs or an HP. We overstepped our roles as reslife staff in making this statement and apologize for that.
The views expressed do not reflect the views of Paula Queenan (our CD), Cathy Bickel, the Office of Residential Life and Student Housing, Wellesley administration, the Munger community as a whole, or anyone else in the college.
If you'd like to process this situation with other resources on campus, we would like to continue pointing you to The Stone Center and The Office of Religious and Spiritual Life (ORSL).
We want our residents to know that while we never intended so, we understand how making this statement has caused hurt to specific populations in our community. We as a staff are committed to rebuilding trust and repairing relationships in the Munger community.
If anybody has felt affected by the message sent last night, please feel free to reach out to us to talk. We hope to hold a community space for Munger residents soon regarding this issue.
All my best, –Moi
UPDATE: According to two sources, she then put this message on Instagram.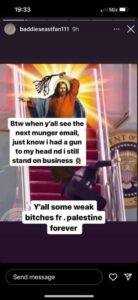 And I'm told that "the Munger Hall group" also organized this protest: